Australia is one of the most welcoming countries that accept immigrants from the widest range of cultures.  Due to its cultural diversity, increasing economy, and open immigration policy, Australia offers opportunities to all those who desire to immigrate and stay there.  Australia receives more than 200,000 new immigrants annually because of its strong economy, way of life, economic freedom, high standard of living, and superior educational system. Numerous international students pick Australia as their study destination because of the country's top colleges, stunning natural surroundings, energetic towns, and numerous oceans.
If you want to migrate to Australia, this blog will help you with the next steps. So let's get started!
About Australia PR
A permanent visa holder who is not an Australian citizen is known as an Australian permanent resident. In Australia, a permanent resident is free to live, work, and pursue education. A permanent visa holder may stay in Australia indefinitely. Along with the permanent visa, a 5-year initial travel facility that matches the underlying migration scheme is given. The visa holder is free to leave and enter Australia as often as they want up until the travel facility expires. The visa holder must reapply for the travel facility after that time. Permanent visa holders who are already in Australia but whose travel authorization has expired are permitted to stay there permanently.
Permanent resident holders are permitted to stay in Australia permanently, work, study medicine, sponsor family members, and travel to and from Australia for five years.
Steps involved in Australia PR application progress
1. Get Listed in SOL
The skilled occupation list (SOL) provides a summary of the jobs required in Australia to address skill shortages. Verify that your profession is listed on Australia's applicable Skilled Occupation List (SOL). Your profession must be included in the Skilled Occupation List to obtain Australia permanent residency depending on the category of visa you have chosen to apply for.
2. Select the Visa Category
Choose the visa category subclass to proceed to the next step. You will need a visa that is specific to the type of work you wish to do if you want to travel to Australia for work. If you want to get higher education, the relevant visa category should be chosen. 
3. Calculate the points for eligibility
The points-based system is used to determine who is eligible to immigrate to Australia and is established by the Department of Home Affairs (DHA), Australia. Your age, proficiency in English, educational background, work history, partner's skills, sponsorship, and other factors are included. You must receive at least 65 points to be eligible.
4. Get Language Certificate:
If you want to apply for a student visa, a skilled visa, or a permanent visa, you must be able to succeed on the DHA's English Language Test. You must attend IELTS, TOEFL iBT, PTE, OET, or CAE and obtain good scores in Functional, Vocational, Competent, Proficient, or Superior English to demonstrate your proficiency in English.
5. Get Report for Skill Assessment
Your skills are verified to satisfy the standards needed to carry out the responsibilities of the relevant occupation by the skills assessment authority. Contacting the assessing authority and getting your evaluation are both necessary steps in getting your skills evaluated. For some visa subclasses (and streams), getting a sufficient skills evaluation is required, whereas some do not. 
6.Make the Expression of Interest (EOI)
If you want to immigrate to Australia as a skilled worker or business person from abroad, use Skill Select to submit an expression of interest (EOI). Skill Select must be used to submit all EOI is online. There is no price to establish or submit an EOI in Skill Select, and it is not a visa application. Your completed EOI is saved in Skill Select and is valid for two years after completion. While incomplete EOIs will also be kept on file for two years, they will not be considered for invitations.
7.Wait for the invitation
You'll have to wait to be invited to apply after you've expressed interest. The average wait time to get a visa application invitation is between 2 and 8 weeks. The waiting time may vary for months based on the occupation.  
8.Earn ITA
A key step in your immigration to Australia is getting an invitation to apply from the Department of Home Affairs. After you file an EOI – Expression of Interest, DHA might give you an ITA for an Australia Visa under the General Skilled Immigration Program. After being assessed across a wide range of vocations, Skill-Select ranks EOIs. Then, it extends an invitation to apply to Australia to the top-ranked applicants. Typically, one invitation is extended each month.
9.Submit PR application
As we approach the final few phases, you have 60 days to submit your PR application after being invited to apply(ITA). Applications for PR can be submitted online or through the best immigrant consultant. Applying with the top Australia visa consultant's help is a good choice.
10.Be Certified
After applying for PR in Australia, the final step is to submit the police certificate(PCC), health certificate, character assessment certificate, character statutory certificate, military certificate, and a letter of good conduct from a coworker.
These are the steps involved in the Australia pr process. Follow these steps to get the Australia pr from India. 
Also read: Things Subclass 491 visa holders can do In Australia
Eligibility Criteria for Australia PR process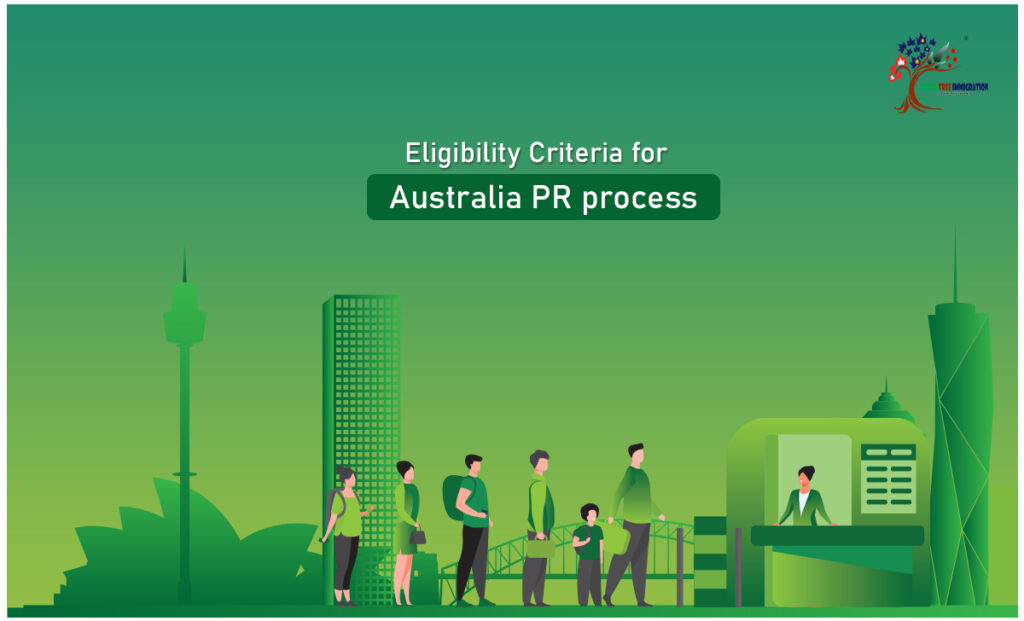 If an Indian resident has an overall score of 65 points and meets all the eligibility standards, including being a skilled employee or experienced professional, they are qualified to apply for any Australia PR visa category. Here are some points to note for the Australian pr visa eligibility.
To qualify for an

Australia PR visa

, you must receive at least 65 points.

Applicants should be proficient in English.

Assessments of your skills should be performed.

Age should be under 45 years for eligibility.

The prerequisites for both character and health should be met. 

Work experience should be provided.

An additional advantage is being listed in SOL.
How Australia PR points are calculated?
Australia's PR process is based on a point entry system. The below table will show you the points based on each category. These points may vary when you apply for different kinds of visas. 
Criteria
Points

Age

30 points

Efficacy in English

20 points

Skilled career experience(outside Australia) 

15 points

Skilled career experience(inside Australia) 

20 points

A

cademic Qualifications

20 points

Masters / Doctorate degree(research) inside Australia

10 points

Professional Year (inside Australia) 

5 points

Diploma or trade qualification(inside Australia) 

5 points

Community language Skill

5 points

Spouse Skills

5 points

Sponsorship

15 points

Cost of Australia PR process
The fee for applying for a permanent resident visa in Australia is calculated using Australian dollars (AUD). Here are the pricing details for the Australia PR process. 
*Indian prices may vary.  
Visa prices fluctuate occasionally. The visa cost varies depending on the time the Australian government receives your application. They will charge the new application fee if the price increases between when you submit your application and when they receive it. Verify with the consultant before applying. 
The processing time of Australian PR
The processing time varies for each subclass and is based on the applicant's visa category. The Australian government will start checking for the applications and handling the visa application process immediately. The Australian Department of Home Affairs performs appropriate research once all the required documents have been provided. They will issue you a visa when all your information has been confirmed. It may take three to five months. Depending on the subclass of the visa, it could take more than a year.
Why Green Tree Immigration for Australia PR visa?
Concerning
how to get Australian PR
? All your Australian immigration-related inquiries will be addressed by Green Tree Immigration's top
Australia visa consultants
. We provide the best
Australian PR from India
to our clients. Our best experts will assist you in getting your Australian PR Visa in a short time. Reach out to our specialists to achieve your dream!