Overview of Canada study visa
Canada has become one of the hotspots for education in the world. Indian and foreign students are opting for studies in Canada for their exceptional standards of education and their outstanding professors and tutors. Canada is also known for holding people from all over the globe, making it a diversified country with no racial discrimination or prejudice. The country also has numerous places to visit and hang out, as well as numerous advantages. As a result, students are eager to relocate to Canada to study and then find work.
What is a Canada Study Visa?
A Canada study permit or a study visa is the official document that enables you to study at Designated Learning Institutions (DLIs) granted by the Government of Canada to overseas students. The study permit or study visa must be applied for before starting your journey to Canada. This study permit is required by all global students who anticipate studying in Canada. You should possess all the documents and paperwork before applying for this study permit. Bear in mind that the Canada study permit is not an entry visa to Canada.
You must apply for an electronic travel authorization (eTA) or visitor visa to enter Canada. The Government of Canada will provide you with a visitor visa or eTA if your study permit is accepted.
If you are a citizen of certain countries and want to study in Canada's DLIs, you can also apply for a study permit through the Student Direct Stream (SDS). India is one of the countries through which you can seek SDS for a study permit. SDS can be approved quickly—as soon as 20 days—if all the required criteria are met. SDS applications are only submitted online. If you submitted your SDS application through paper, it will be treated as a standard offline study permit application. 

What are the essential documents and eligibility required to apply for a study visa in Canada? 
Before applying for a study permit in Canada, you must have the necessary documents.
The forms must be submitted with fully filled-out details such as date, place, and signature.
You must hold an acceptance letter from any of the Designated Learning Institutions (DLIs). This paves the way for obtaining the study permit as proof that the university has accepted your study at their university.

You must possess a valid and active travel document or passport, which serves as proof of identity.

Provide a photocopy containing the passport number, passport validity, and issuance dates, as well as basic profile details like your name, place of birth, and date of birth of your passport.

Educational certificates (diploma, higher secondary school, senior secondary school)

You must hold English proficiency test results that are accepted in Canada, such as IELTS, TOEFL iBT, CAE, and PTE. Your band score should not be less than 6 to secure admission to any DLI in Canada.

You must possess the required amount of funds for your college, accommodation, and other utility charges. It is mandatory to have CAD 10,000 every year in a student's account.

You should produce an Immigration Medical Examination certificate stating that you are in good shape and you can travel to Canada. 

A Statement of Purpose (SOP) or an explanation letter is a prerequisite for admission into any college in Canada, as it serves as an entry and outlines the reasons why you want to opt to study in Canada and the chosen university.

Two coloured passport-sized photos are required to submit with other documentation. Make sure the photo is professional and has a white background.

Students 18 and up must complete a family information form.

You must provide a marriage certificate (if applicable).

Custodianship Declaration (for students below the age of 17/minors).

You will be required to submit a Québec Acceptance Certificate (CAQ) if you are going to pursue education in Québec over 6 months.

You may also have to submit additional documents if requested by the officials.
What are the major factors influencing the processing time of a Canada study visa?
The processing of a study permit is initiated as soon as the application for the study permit is submitted by you. However, the length of time it takes to process a Canadian student visa depends on several criteria. The following is a brief overview of some of the key aspects that affect how quickly study visas for Canada are processed:
Incomplete application forms were submitted

Lack of supporting or essential documents

It depends on what type of study permit application is submitted

If any travel restrictions are put forth by the country

A large number of study permit applications were received by the visa authority

A shift in government leadership may also affect how quickly visas are processed

If any candidate has a criminal record
What are the Canada study visa processing fees?
Are you looking for the processing fee for a Canadian study permit to attend a Canadian university? The study permit's processing fee can be paid online or offline. You can pay with a demand draft (DD) to the visa application centre (VAC). The Canada study visa processing fees are as follows:
The processing fee for a Canada study visa is CAD 150 (INR 9,210.79)

for applicants applying from both inside and outside of Canada 

For a study visa extension, it costs

CAD 350 (INR 18,421.58), of

which CAD 200 is for the restoration of student status and CAD 150 is for the study visa 

The biometrics cost for the Canada study visa is around

CAD 85 (INR 5,214.43)

Guaranteed Investment Certificate (

GIC

) Account Deposit:

CAD 10,000

Police Clearance Certificate (PCC):

500 INR 

Medical Clearance Certificate (MCC):

5,500 – 9,000 INR

Application fees for Canadian universities range from $50 to $250 (depending on the institution)

Canada University fees:

CAD 550 – 30,000

(depends on the university and programme chosen)

Proof of funds for the first year at the university/institution
What is the Canada study visa processing time?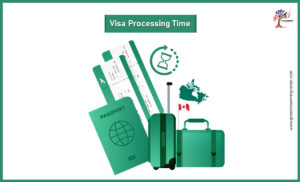 The Canada study visa processing time differs for each type of study visa.
If you apply for a study permit from outside of Canada, the process can take up to

ten weeks

.

If you are applying for a study permit from

inside

Canada, it will take up to

5 weeks

to process.

If you are applying for a study permit extension, it takes:

Online study permit extension application –

154 days

Paperwork study permit extension application  –

143 days

If you are applying for a study permit through SDS, it will take 20 working days
Does GreenTree Immigration help in providing study visas for Canada?
GreenTree Immigration helps and facilitates the issuance of study permits in Canada. GreenTree Immigration is an ICCRC-registered and authorised immigration consultant in India. GreenTree Immigration has provided various immigration services concerning Canada, such as study permits, visitor visas, and permanent residency. We stand tall for our success rates and provide the most trustworthy and notable services. We provide authentic and diligent client-focused services. We take into consideration our client's needs and come up with solutions for their difficulties and drawbacks. GreenTree Immigration has helped many clients obtain study permits in Canada. We have a 100% success rate in providing study permits in Canada. 
Visit GreenTree Immigration today or contact us by mail or phone to obtain your Canada study permit. 
Frequently Asked Questions (FAQs)
Is IELTS required to obtain a Canadian study permit?
Yes, IELTS is mandatory to obtain a Canadian study permit. 
What is the minimum IELTS score required to obtain a Canadian study permit?
A minimum 6 band score in IELTS is required for undergraduates and 6.5 for postgraduates. However, some Canadian universities accept 5.5 band scores.
What is the validity of a Canadian study permit?
The Canadian study permit is valid for the duration of the programme you have undertaken plus an additional 90 days.
What is the maximum time it takes for a Canadian study permit to get approved?
Once you have received your acceptance letter from the university, make sure you apply early to obtain your study visa. It can take from 10 weeks to 3 months.
How can I find out whether my student visa for Canada has been approved?
You will receive an official letter called "the port of entry letter of introduction" from the Government of Canada stating that you can start studying in Canada.