What does an Australian Permanent Resident mean?
If you want to study or work in Australia while staying permanently, you can apply for a permanent residency visa and obtain an Australia PR visa. You can also sponsor your family and relatives through the PR program in Australia. Being a permanent resident in Australia does not imply citizenship, but it can pave the way to becoming an Aussie!
What are the tips to boost your prospects For PR In Australia?
So, are you looking to boost your PR score for Australia? Here are a few tips to boost your PR score to gain entry into your dream country, Australia.
1. Make sure to apply early to meet your age requirements
To obtain an Australian PR, you must be between 18 and 45 years old. However, you will be awarded a maximum of 30 points if you are between 25 and 32 years old. 
If you are between the ages of 18 and 24, or 33 and 39, you will receive 25 points. You earn 15 points if you are 40–45 years old.
So if you apply early, you will obtain the maximum points. 
2. It is good to have a professional career in Australia
If you have had work experience inside Australia, this can help you obtain supplementary points. You will get a maximum of 20 points if you have more years of experience.

3. It is best that you have more years of a professional career outside of Australia 
You will be awarded a maximum of 20 points if you have 8 or more years of professional experience. If you are applying for the skilled immigrant category, it is best to have at least 3 to 5 years of work experience. You will be awarded from 5 to 20 points overall.
4. Select the Correct Profession for a Skills Assessment
The chosen occupation is necessary and cannot be substituted later. So selecting the correct occupation is required, which can fetch you more points and also leads to state nomination.
5. To get the most points, you should have a higher education
To apply for permanent residency in Australia, the individual must have at least a diploma. You gain 10 points for a diploma. You obtain the highest point total of 20 for higher degree qualifications such as a Ph.D. or post-doctorate, and 15 points for bachelor's and master's degrees.
6. Take up education in STEM fields
Studying in any of the STEM (Science, Technology, Engineering, Mathematics)  fields can make you gain additional points.
Other courses that can award you additional points for improving your PR score are Computer Science & Information Technology, nursing, education & teaching, and accounting.
7. Increase Your English Language Test Scores 
Earning excellent marks in your English language tests is an option to raise your PR points. Australia accepts English tests such as IELTS, COET CAE, PTE, and TOEFL iBT to evaluate your English skills. This English test evaluates skills like writing, reading, listening, and speaking. You will earn extra points if you perform better on these exams.
You will obtain 20 points if you have an IELTS band score of 8 (superior), 10 points if you have an IELTS band score of 7 (proficient), and no points if you have an IELTS band score of 6 (competent).
8. Try to retake your IELTS test 
You can try to retake your IELTS test if you are unsatisfied and do not qualify with your test band scores. You can attempt to gain a better band score.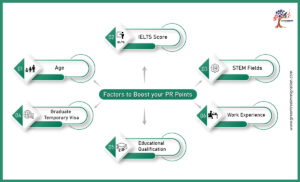 9. Take different English proficiency tests
If you score 65 or higher on the PTE (the Pearson Language Test) and 79 or higher on the PTE (the Pearson Language Test), you will receive 10 points for "proficient" and 20 points for "superior," respectively.
10. Secure a State or Territory Nomination to add points to your PR score
The state nomination (subclass 190) or territory nomination (subclass 491) can earn an additional 5 and 15 points respectively.  People in regional Australia are increasingly opting for PR. Students can get an extra 5 points if they fulfil the 2-year Australian study criteria in a rural part of the country.
11. Obtain a Graduate Temporary Visa
You can work after finishing your studies if you have a graduate visa. It can also aid you in seeking employment in Australia after your studies. A professional year also helps you add points to your PR score. 
12. Your spouse or partner can help you acquire additional PR points
If your spouse is an Australian PR holder or citizen, you obtain 10 points. You also get 10 points if your spouse has a competent level of English skills and has the same occupation as yours.
13. Adaptability Factors
If you satisfy the following adaptability factors, you can acquire additional points.
Factor 1 – Australian Study Requirements/Specialized  Education Qualification
You can gain 10 additional points if you complete two academic years at any Australian university in the field specified by the Department of Immigration.
Factor 2 – One degree/Diploma in Australia
Holding an educational degree or diploma from an Australian university can fetch you 5 extra points. 
Factor 3 – Professional Year in Australia 
After completing your studies, or while pursuing your studies, you can study and work a professional year in Australia, which can earn you 5 points. 
Factor 4 – Credentialled Community Language/NAATI Test 
Being an accredited translator can help you gain some brownie points. If you are an accredited translator, you can earn an additional 5 points. You can choose the National Accreditation Authority for Translators and Integrity (NAATI) to become an accredited translator. 
You will obtain 5 points if you know a community language.
Factor 5 – Study in Regional Australia
You will be able to get an additional 5 points if you are living and pursuing your education in any region of Australia.
How can you seek Australian Permanent Residency?
It is important to learn everything about the procedure and choose the best permanent residence permit category for you before applying for Australian PR. We advise speaking with GreenTree Immigration's qualified consultants if you have questions regarding the stages involved in obtaining PR. Since every application is unique, they can provide you with a crystal-clear explanation of whatever must be carried out in your specific circumstance.
If you are applying for Australian PR, you must meet the following criteria:
You must apply through the point-based system to obtain a PR as a Skilled Migrant. You must submit an EOI with a minimum of 65 points to obtain a PR. 
You can calculate your PR points from our Australia PR Calculator 2023.
You must be proficient in the English language and provide proof of your English skills by taking IELTS or other recognized English proficiency tests.
You must prove or provide evidence or proof that you are healthy and fit and that you can live, work, or study in Australia and be an asset to the Australian government.
Can GreenTree Immigration aid in improving my Australia PR score?
Yes, GreenTree Immigration provides you with exceptional assistance when it comes to permanent residency services. GreenTree Immigration calculates your PR score with Australia Immigration and recommends the best visa process for you. We are recognized as one of the top 10 Australian immigration consultants in India. We go to great lengths to ensure that our client's candidatures are successful. GreenTree Immigration's Australia immigration experts have great knowledge of the Australian PR process. GreenTree Immigration has branches in various metropolitan cities around India, such as Chennai, Hyderabad, Bangalore, Coimbatore, and Kerala. If you aspire to make Australia immigration from India, GreenTree Immigration is one of the most client-focused immigration and visa consultants in India. 
This blog helps understand the ways of improving the Australian PR points and the advantages of each of them. Do you want to become an Aussie and have a Kangaroo Passport?  Please contact our GreenTree Immigration consultation experts as soon as possible to assist you in obtaining your PR as quickly as possible. 
Frequently Asked Questions (FAQs)
How many points are required for Australia PR?
A minimum score of 65 is needed to be eligible for an Australian PR.
Who is the profile assessing authority for Australian PR?
By using obtaining the ANZSCO code, your profile assessing authority can be known.
What is ANZSCO and where can I find the ANZSCO code?
The main purpose of ANZSCO is to consolidate and analyze information on professions or persons that have been gathered. You can find your ANZSCO code for your profession on the ANZSCO official website.
Are English proficient tests needed to acquire an Australian PR?
Yes, English language proficiency is mandatory to get an Australian PR. IELTS and PTE are the most common English language tests recognized by Australia.
Can my family be brought along with me after I have received my Australian PR?
Yes, you can bring your family on a Sponsored Family Visa.
Which is the top and best Australian PR consultancy in India?
GreenTree Immigration is one of the best and most client-rated Australia Immigration Consultants in India.
Where can I calculate my Australian PR score?
You can now calculate your Australian PR eligibility score from the GreenTree Immigration website.