Dear Indians! Get your dream job in Canada from India.
Nowadays, finding a job is challenging. By offering job seekers opportunities, Canada extends a helping hand to newcomers. In Canada, there are enormous fields where every expert can find employment. Because of the living standards and ample lifestyle, immigrants find Canada to be the most welcoming country. The corporate culture in Canada is incredibly diverse and robust. Now is the moment to utilize these chances and build a calculated strategy for your application procedure. In this, we can discover how to apply for a Canada Job from India.  
Easy ways to acquire a job offer in Canada from India:
Finding a job in Canada is now an easy process. All we need is persistence. There are several sources to get employment in Canada. Here are some steps to explore the jobs in Canada for Indians.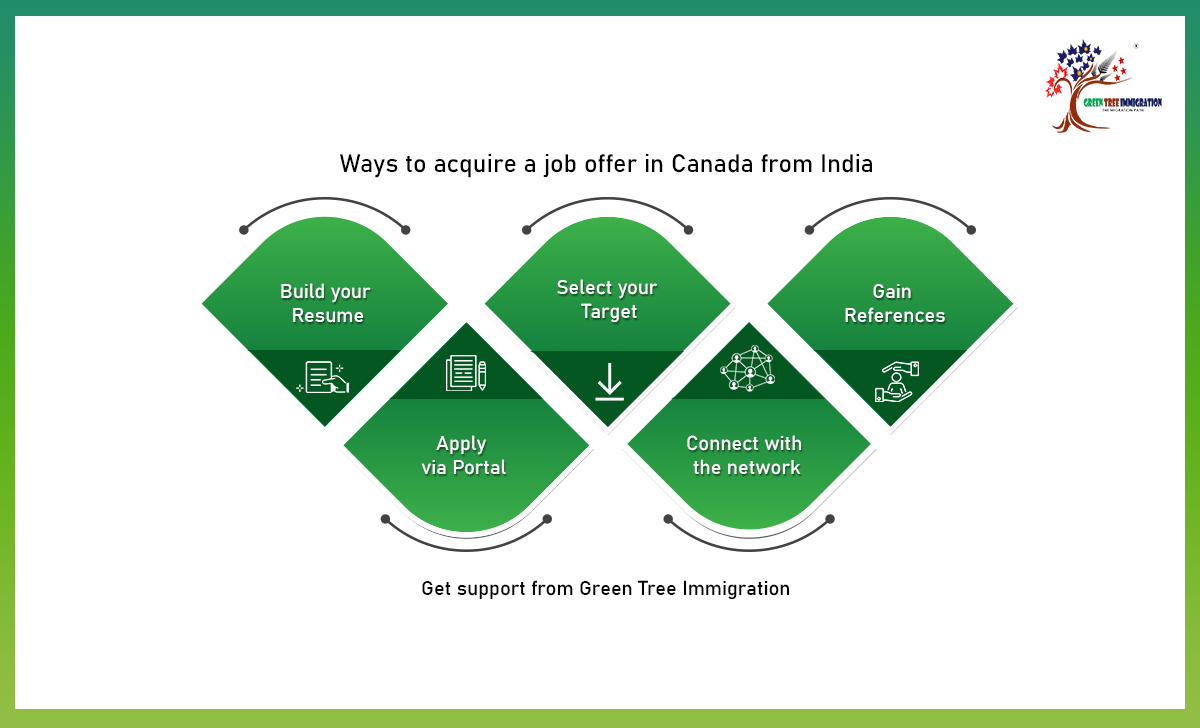 1. Build your Resume:
Your CV or resume should highlight your technical skills, based on your knowledge of languages and working experience. Include soft skills such as team management, problem-solving, and communication. Include a description of your education experience, certifications, achievements, name, and contact information.
2. Select your target:
The key to landing a job in Canada is choosing the right target. It's never a good idea to respond to internet job postings if you're looking for work in Canada. Be picky when seeking a job. Select your specialization and apply for the position you are qualified for.
3.Gain References:
Getting a job in Canada is a little easier when you have good references. Try to get endorsements from your previous company managers and co-workers, relevant to the experience that you have applied for the job. Endorsements may acquire more credibility.
4. Apply via Portal:
There are various Canada job portals available for Indians to apply for jobs in Canada.
The Job Bank

is part of the Canadian National Recruitment Service and is the best place for job seekers to find a wide range of positions.

The government of Canada

job portal is also one of the leading job portals for those who are seeking employment. This portal lists the current open Canadian positions for job seekers.

The student job portal in Canada

always provides suitable employment to students. Students can also explore career opportunities provided by both public and private employers in Canada.
5. Connect with the network:
In recent days, social media has helped job seekers get job offers. Grow your network with genuine recruiters. You can make significant connections and gather useful knowledge by socially and professionally networking effectively. Find online career prospects for your profession.
6. Canadian Job Application Documents
Before being considered for a position, you must submit certain documentation to hiring managers to find work in Canada. The specific types of documentation needed will vary depending on the position you're applying for and the program you're applying under.  
You will require the following documents to apply for a job in Canada.
Resume & CV

Education Document

Work Experience Document

Salary Proof

Identity Proof

Passport & Visa

Canadian Work Permit
High Demand Jobs for Indians in Canada
In recent years, Indians have emerged as one of Canada's most significant financial patrons. Indians might therefore find plenty of employment options in Canada. 
Here are the top ten positions that Indians are seeking in Canada.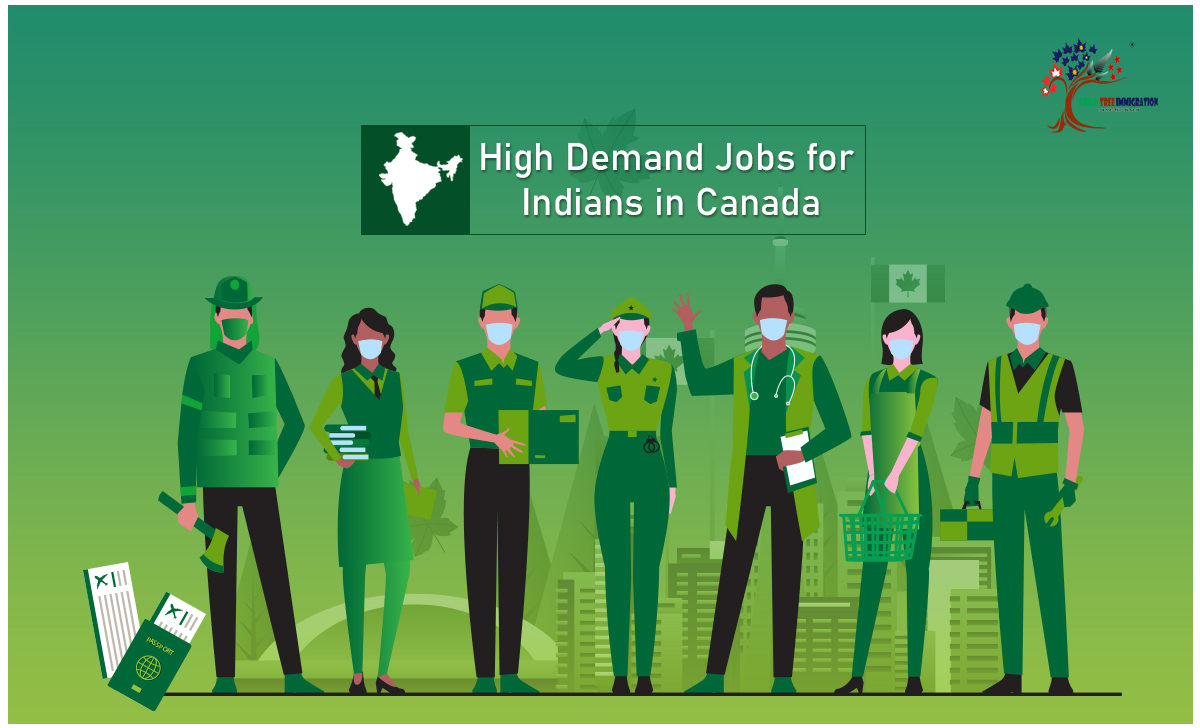 Software Engineers
The report indicates that demand for software engineers is increasing annually and is anticipated to increase by 17 percent between 2018 and 2028, which is substantially faster than the average for all jobs.
Doctors & Nurses
In Canada, there are now around 17,000 open nursing positions. On the contrary, there are not many registered nurses/doctors and licensed practical nurses/doctors. In Canada, according to the Board, demand for nurses/doctors will quadruple over the next ten years.
Business Development Executive
Any business must have a marketing manager or a business development executive. They are in charge of a brand's reputation and propel commercial expansion. You can apply for marketing jobs in Canada if you have a strong marketing portfolio. 

Chartered Accountants
As a chartered accountant, you can be confident that there is a big need for your expertise in Canada. The pay scale is high when compared to other countries.
Network Administrator
It might be the most challenging part of modern IT. As technology continues to advance swiftly, Canadian businesses will need to make quick adjustments and modernize their IT infrastructure to stay secure online.
Trained Teachers
For high school educators, new job opportunities are predicted to total 50,000 between 2019 and 2028 due to expansion and replacement needs, while 55,000 new job seekers are expected to be available for teaching jobs.  
Data Scientist
Students have a wide range of employment options because of the demand for and versatility of a data science degree. Technological advancements are anticipated to increase the demand for workers in this field.
IT Professionals
The ICT sector in Canada is expanding rapidly. IT professionals are needed to address this growing demand for manpower. To apply for the position in Canada, you must have a strong academic record and relevant experience.
Certified Lawyers
If you have a legal degree, Canada has a lot in store for you. An attorney in Canada may expect to make an annual starting salary of CAD 75,000. Canada offers numerous professional options in a variety of legal specialties.
Sales Manager
Corporate sales managers are still in high demand across Canada on a national and provincial level, even though many of them have immigrated in recent years.
Also read: Top 10 most indemand jobs in Canada 
Additional jobs
There is still more employment available to Indians in Canada. As an Indian in Canada, you can work in the following additional fields:
Mechanical Engineer

Help Desk Managers

Architectures

Web Developer

Digital Marketing 
Find jobs in Canada with the help of PR:
Having a Canada PR (Permanent Residence) improves your chances of finding employment in Canada from India. Having a job offer that satisfies specific requirements will earn you extra points in the Express Entry system. The Comprehensive Ranking System will give you bonus points if you get an employment offer from Canada (CRS).
A job offer from a Canadian company can significantly boost the probability of being invited to submit an application for permanent residency. If you already have permanent status in Canada, you may receive a job offer there. Applying for a work visa is necessary after getting your dream job and an offer letter from a Canadian company. By allowing qualified professionals to immigrate to Canada, the Express Entry Program aids in bridging the employment need.
Get Your Dream Job with Green Tree Immigration:
Are you trying to get employment in Canada? Green Tree Immigration employs trained professionals with expertise in the job category and a commitment to helping you obtain permanent residence in Canada. By utilizing our professionals, we assure you'll immigrate to Canada with a beautiful job opportunity in hand.
To assist with migration planning, speak to our licensed immigration consultant and gain guidance from Green Treen Immigration, a Registered Immigration Consultant, to apply for a PR visa. Contact us right away for a fresh start to your dream job.