Are you one of the newcomers to Canada? Confused about how to find a job after moving to Canada? Worry less! You are in the perfect place. With great effort and commitment, you can get employment in the relevant field in Canada. But it is crucial to plan carefully to get a job. We integrated a lot of ideas to help immigrants receive a job offer letter in Canada. By implementing the guidance in this article, you can create a successful plan for your job search in Canada.
Discover new career opportunities!
Once you migrate to Canada without a job, your next move should be to look for a job that matches your experience and interests. After COVID-19, job searching is more challenging, though we can accomplish this. After November 2021, employment in Canada increased above pre-COVID levels, making it an excellent moment for people looking for employment prospects there. There are certain tools available to find jobs in Canada. Some websites and tools can assist you in finding a job in advance by connecting you with potential Canadian employers. You can start your own business after arrival if you don't wish to work.
Finding a job: Tips for getting hired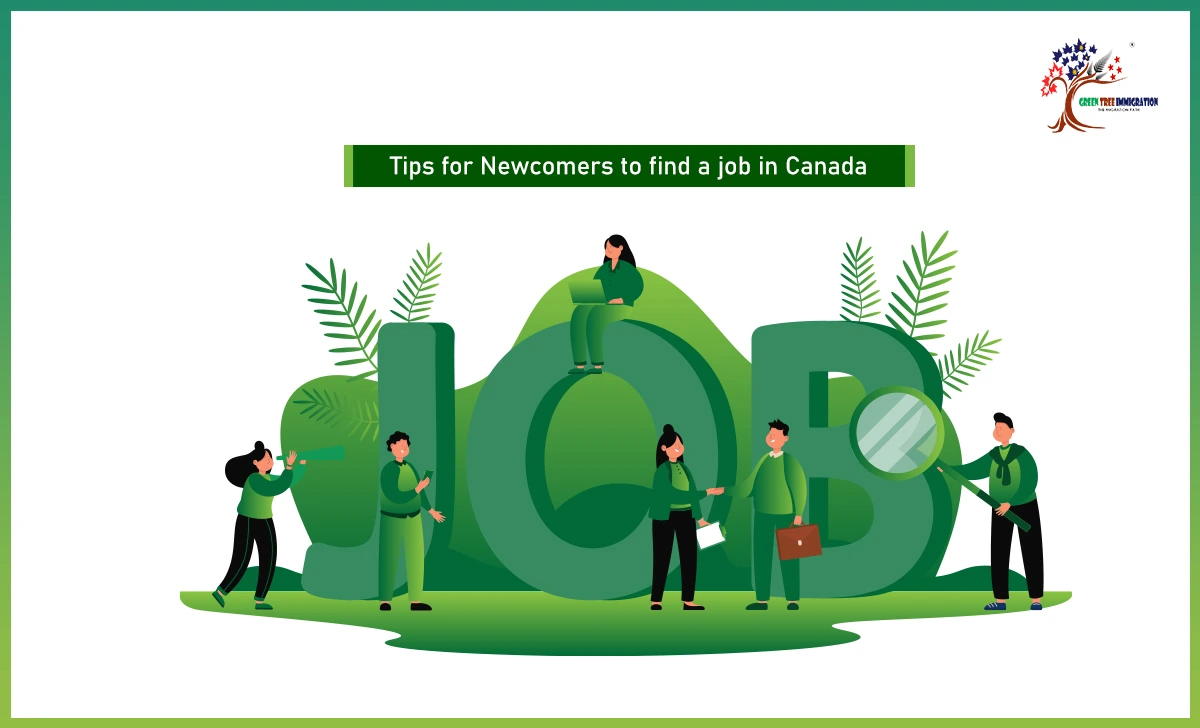 Get SIN: 
To work in Canada, you must have a Social Insurance Number (SIN), unless you already have one. As soon as you arrive in Canada, you should apply for a SIN if you qualify. It costs nothing to apply for a SIN.
Stay tuned:
It is crucial to stay updated on the latest news and current job openings. Job Bank Canada provides free information about careers and opportunities like available jobs, salaries, roles and responsibilities, requirements, qualifications, and so on. Check out the websites of the companies where you wish to work. Ask the employers whether they are hiring, and do other research.
Search and Explore:
Visit local job fairs to speak with businesses and learn about their available positions. Find out which companies are recruiting, and check the classified sections of newspapers and employment portal websites. Use a job-searching consultant to find work for you. You can only learn about some employment by speaking to people because many jobs aren't publicized.
Apply right away:
Once you discover an ideal position that interests you, you'll typically need to apply by sending your resume/CV. Choose the proper resume format. Your resume should contain your education details, achievements, work history, personal details, and contact details. It is crucial to attach the cover letter with the CV. Your CV/Resume should contain information about your personal and professional history, and your cover letter should explain why you are qualified for the position.
Be picky:
You may apply to a variety of positions that interest you. But choosing them wisely is an essential thing. Pick the right job based on the nature of the job, the salary, the location, the scope, etc., Discover more about the company you are going to work for. Explore their website to learn more about employment opportunities and workplace culture.
Verify the work type:
The majority of professions in Canada are unregulated. However, some professions are regulated, which requires the acquisition of specialized professional licenses or certifications. If your desired job falls into the regulated group, that would be advantageous and find out whether Canada accepts your certificates and degrees.
Boost language skills:
It is vital to improve your language skills in either English or French, which is regarded as Canada's official language if you want to work in Canadian culture. These languages may help you to find jobs in Canada, based on the area you reside in and the kind of work you want to undertake there. To learn more about IELTS, check out this blog. 
Bonus Tips for Newcomers to find a job in Canada:
Get a Bank Account:
Opening a bank account in Canada is necessary to reside there. This is crucial for managing your finances, receiving your paychecks, establishing a strong credit history in Canada, and making your daily life easier.
Apply for an ID Card:
Having a Canadian ID card is an ideal thing to have in addition to your passport and PR card. Be sure to get your Canadian ID card once you arrive there. 

Request Canadian Healthcare:
Before applying for Canadian healthcare, consider the province to check if the newcomer will have to pay as each province has different regulations. If you're a newcomer, getting private health insurance is advisable. For your initial months in Canada, you can get the ideal private health insurance plan through E-Visa.
Conclusion:
We, the team at GreenTree Immigration, can help you with every step of your job search, including creating your profile, preparing your Resume/CV, and creating cover letters. If you need any additional information on how to get employment in Canada as a new immigrant, feel free to call us.  
With our knowledgeable staff, we can help you secure the Canada PR visa if you're hoping to immigrate to Canada as we are up to date on all relevant procedures and legal requirements. Contact us for a free consultation.