Dear Parents and Grandparents! Do you want to stay in Canada for up to 5 years to visit your children? The Canada Super Visa's duration has been increased to five years per entry for parents and grandparents starting on July 4, 2022. Most of the visitors stay in Canada for 6 months on their first arrival. To stay a bit longer, they have to request an extension of their visa, and fees should be paid. The fees start at $100, and the processing time varies based on the country. 
The parents and grandparents super visa allows eligible parents and grandparents to stay with relatives in Canada longer than they might on a visitor's visa. Several criteria should be met to apply for a Canada super visa, including health conditions. Let's check the benefits, eligibility, and how to apply for a parents and grandparents super visa. 
Benefits of Super Visa:
Holders of super visas may enter Canada once and remain there for up to five years without having to renew.

It lasts for ten years or more.

Additionally, numerous entries and exits are permitted for a maximum of ten years.

Qualified parents and grandparents can temporarily reside in Canada with the super visa.

Parents and grandparents might be sponsored to immigrate to Canada permanently. 

You'll be qualified for a visit for 5 years at a time if you submit your application on or after July 4, 2022.
Eligibility  & Checklist for Super Visa: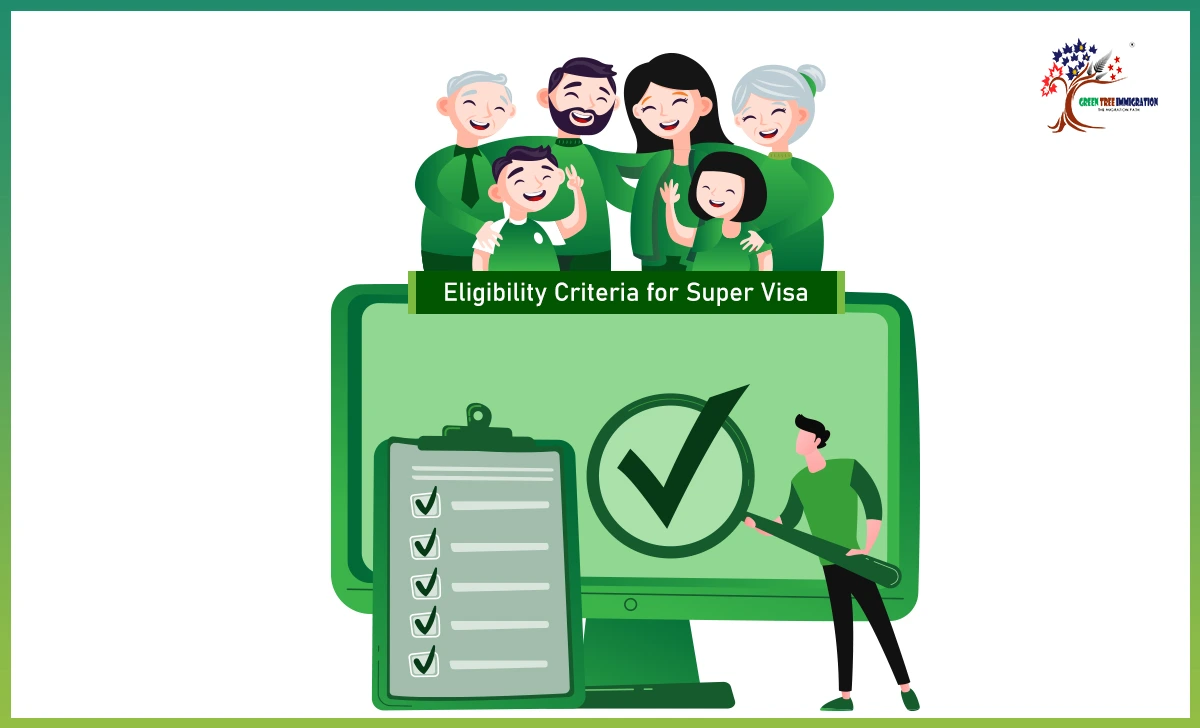 To qualify for a super visa, you must satisfy a variety of criteria. They are as follows:
You must be a Canadian permanent resident or be the parent or grandparent of a citizen of Canada.

You should get a letter from your child or grandchild who resides in Canada. The letter must mention the Canadian resident's financial assistance to you, the size of your family, and their citizenship or proof of permanent residence in Canada.

A super visa must also be applied for and printed from outside of Canada and must be permitted to enter Canada.

Along with the medical examination for immigration, you must submit medical documentation proving your insurance with a Canadian medical insurance provider.

The medical insurance document should be valid for at least a year from the date of entry and should cover $100,000 in the emergency policy.

Submit proof of your funds:
You must have proof that the child or grandchild who is inviting you has the necessary income to support the family.
Current tax year forms of T4 or T1 should be submitted.

Provide the Notice of Assessment(NOA)

Share the benefit statement of Employment Insurance (EI).

A copy of the job letter should be provided, including salary, designation, and hiring date. 

Pay slips and bank statements should be given. 
The Canadian government will also verify your links with your country, your visiting purpose, your family background, your financial status, and the stability of your country's economy. 
Also read : 5 Fastest pathways to immigrate to Canada to get PR
Applying for a Super Visa:
The Parents' or Grandparents' super visa can be applied online via the IRCC portal and should be outside of Canada. Below are the steps for applying via the IRCC portal. 
Visit the

IRCC portal

 

Sign up if you are a new member or sign in using your valid email id and strong password.

Enter the details and upload your documents.

Pay the fees with a credit card.
If you find it difficult to apply online, feel free to contact us. 
Super visa Required Documents:
The following documents need to be collected and uploaded to the IRCC portal.
Vaccination proof by ArriveCan

Travel and contact details

Invitation letter by the family member

Medical insurance certificate

Notice of Assessment document

T4 or T1 form

Job offering letter with a payslip

Sources of income proof

Relationship proof like a birth certificate

Identity documents like passports
The final steps:
The super visa Canada processing time will vary based on the visa office and the country. Your passport or any other original documents will be returned to you after processing the application. Your passport will be sent with the visa after your application has been approved. Fake documents are not acceptable and returnable.
Conclusion
You may find it challenging to submit an online application for your super visa. We, at GreenTree Immigration, are happy to handle the process of applying for a parent or grandparent visa. You can rest assured that your super visa will be granted, and the entire process will be hassle-free with GreenTree Immigration. 
We also assist in getting a Canada PR visa, building your resume and profile, and providing all immigration services with a free consultation. Also, you can check your eligibility online for immigration. Contact us if you have any questions or concerns about Super Visas or any other immigration process, and a member of the GreenTree Team will be pleased to go over your choices with you.