Migrating to Canada is simple nowadays with the help of an experienced immigration consultant. Numerous students will benefit from the new changes made by the Canadian government for obtaining study permits. This blog post covers the proof of funding requirements for the express entry program and the student visa amendments.
Changes to student visas in Canada in 2023:
The government of Canada declared new immigration regulations for international students to make Canadian migration and permanent residency procedures easier for those who wish to study there. The recently changed requirements concerned prospective applicants for student visas. The students who opt to prolong their study permit are eligible to work while enrolled in school or after graduation. 
Eligibility requirement in 2023:
The student should provide proof of funds to cover education fees, living costs, and transportation charges.

They should enroll in designated learning institutions (DLIs) in Canada.

The applicant should have no criminal history.

They should submit a police clearance and a health certificate.

The student should submit the study permit and statement of purpose (SOP)
Proof of Funds Canada student visa:
The candidate needs to provide proof of funds to the Canadian government to show that they have the required amount to reside in Canada. Once the candidate receives the invitation to apply, they should submit the proof of funds, stating that they have enough money. The Eligible applicants who want to get permanent residency in Canada must demonstrate to the Canadian government that they have the resources to support themselves and their families over the initial months after coming to Canada.
Funds required to study in Canada:
Here are the minimal funds required to support you as a student for Canada student visa fees and any accompanying family members. 
| | | |
| --- | --- | --- |
| No. of Family Members | Funds required ($CAD) | Funds required (INR) approx. |
| 1 | $13,757 | 842,432.44 |
| 2 | $17,127 | 10,48,799.91 |
| 3 | $21,055 | 12,89,337.43 |
| 4 | $25,564 | 15,65,453.43 |
| 5 | $28,994 | 17,75,495.10 |
| 6 | $32,700 | 20,02,438.09 |
| 7 | $36,407 | 22,29,442.31 |
| If more than 7 members (additional charges for each member) | $3,706 | 2,26,942.98 |
As an example: 
To spend a year in a province (other than Quebec) with two family members, you will need 
Cost: CAD 13,757 (student)
Cost: CAD 17,127 (for the student and one family member).
Cost: CAD 21,055 (for the student and two family members).
The average total expenses per year as an international student in Canada can be somewhere around $12,000 to $15,000.
If you also have an open work permit with your student visa, the minimum amount needed is as follows:
Person Count
Funds Required /year 

CAD $

Funds required / month CAD $

Student

10,000

833

1st family member (spouse or child)

4000

333

Additional family members (spouse or child)

3000

255
As an example: 
To spend a year in a province (other than Quebec) with two family members, you will need
Cost: CAD 10,000 (student).
Cost: CAD 4,000 (for one family member).
Cost: CAD 3,000 (for two family members).
Average total for living expenses: $17,000
Cost of Studying in Canada:
The education fees will differ based on the chosen university and the degree program. It costs between CAD 15,000 and 50,000 annually. The approximate cost of various degree program is as follows. 
| | |
| --- | --- |
| Degree Type | Average Annual Fee (CAD) |
| Under Graduate | $10,000 to $20,000 |
| Post Graduate | $15,000 to $25,000 |
| MBA | $25,000 to $40,000 |
| Doctoral Degree | $5,000 to $15,000 |
Also read: Why Should You Choose To Study In Canada?
Ways to show proof of funds:
Here are the ways to demonstrate that you have enough money to be in Canada:
Provide evidence of a bank account in Canada containing money in your name.

Share the education bank loan proof.

Submit the Guaranteed Investment Certificate (GIC).

Present the last four months' bank statements. 

Share the paid proof of house and tuition fees.

Provide a bank account that can be funded in Canadian dollars.

Submit a letter from the institution or person funding you.
Some of the other ways are
Savings

Mutual funds

Fixed Deposit

Provident funds

Shares

Bonds

Gifts from parents
Note: Jewels, assets, loans, liquid cash, and money borrowed from friends or relatives are not accepted. 
A guaranteed investment certificate (GIC) requires if the student is in the SDS stream. The student should show proof of funds with a minimum of 10,000 Canadian dollars and pay the first-year tuition fees. 
If the students are not on the SDS track, they only need to pay the first term or semester tuition. They can show an average of 3 to 4 lakhs for living expenses in Canada.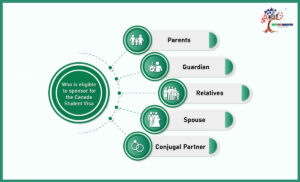 Who is eligible to sponsor?
The following individuals can sponsor the student for the Canada Student Visa: 
parents

Guardian

Relatives

Spouse

Conjugal Partner. 
To sponsor family members, the student must reside in Canada and must be 
At least 18 years, 

A citizen of Canada or 

Recognized as an Indian under the Canadian Indian Act or

Canadian permanent resident.
SOP for a Student Visa to Canada:
SOP (statement of purpose) is crucial to obtaining a student visa. To pursue your education in Canada, submission of an SOP to the university and the Canadian immigration process are necessary. The SOP is written in essay format and outlines the applicant's educational background, academic qualifications, and professional ambitions.
Do you require assistance in drafting your statement of purpose (SOP) for a student visa to Canada? Here you go! Just call our Greentree immigration expert and get it done right away. 
Conclusion:
The Canada visa fees may vary for the individual depending on the university, program, city, and lifestyle. With the assistance of an immigration assistant, decide the appropriate university and course in Canada. We at Green Tree Immigration offer individualized solutions to all of your questions. 
Make GreenTree Immigration your first choice for a transformative study-abroad experience in Canada. Start your studies in Canada right away! Feel free to contact us. Book your call today!!