Australian Student Visa Subclass 500
Studying in Australia is a big dream for many students. If you fall under this category and want to study in Australia, you must be aware of the Australia Student Visa (subclass 500). Here, we provide detailed data on the Student Visa (subclass 500). Let's explore this blog for more details about subclass 500.
A student may pursue a full-time course of study in Australia for up to five years with the Australia Student Visa. If the study year extends, the student may also prolong their visa for the academic year. 

The student must be registered in an Australian academic course and must be at least six(6) years old. The student must be covered by OSHC (Overseas Student Health Coverage) or qualify for one of the exemptions.

Benefits of having Subclass 500:
Students are permitted to take part in an eligible study program in Australia. They can apply online from within or outside of Australia. The student's family members are permitted to fly to Australia with them on this visa. The Australian government permits students to work a maximum of 40 hours every two weeks. Additionally, they are permitted to work in any industry for an unrestricted number of hours while continuing their education. Students can also travel inside and outside of Australia. 
There are many benefits of having Subclass 500 which include: 
You can live and work in Australia permanently

You can apply for Australian citizenship

You have access to free or subsidized healthcare through Medicare

You are able to sponsor eligible family members to come to Australia
Australian Student Visa sponsors:
Students who wish to study in Australia may receive financial support for education and other expenses from sponsors. Here is the list of individuals that can sponsor the Australian Student Visa.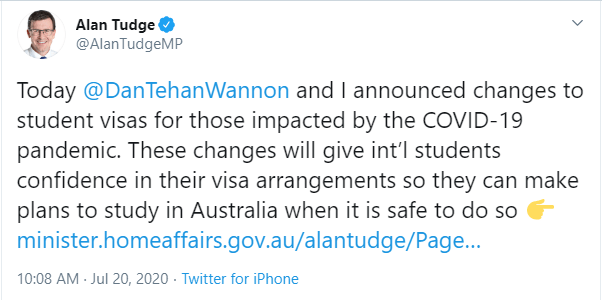 Legal guardians

1st-degree relatives

Father

Mother

Wife

Husband

Children

Grandparents
Requirements for the Australia Study Visa Program:
Before applying for the Australian student visa, the applicant should be eligible. Below are the eligibility and the documents required for an Australian student visa. 
Age
Age is an ideal criterion for applying for visa subclass 500. The applicant's age should be greater than eighteen (18) while applying for this visa. 
Course Enrolment
The applicant must include documentation proving their enrollment in the desired course at an Australian educational institution when applying for the student visa. The application can't be accepted or reviewed if they fail to submit the evidence.
The applicant must submit a Confirmation of Enrolment (CoE) for every course with the visa application if you are applying from outside Australia. 
Welfare Arrangements
When applying for an Australian student visa, a person under 18 must have acceptable welfare arrangements. 
Language Skills
The applicant should submit proof of English language proficiency. Before applying for a student visa, attend the English proficiency test within two years. The required total band scores should obtain to fulfill the English language requirement for student visas.
Health Insurance
For the period of the applicant's visit to Australia, the student and their family must maintain proper health insurance. The applicant and their family should be insured by the Overseas Student Health Cover (OSHC) from an authorized Australian health insurance provider, except if the exception applies.
Certificate:
The applicant and any family members applying for visas who are 16 years of age or older must meet the character and health requirements. When applying for a visa, they must include character and health certificates. 
Note: 
The student must possess sufficient funds to cover the cost of living in Australia. 

They must be a genuine temporary entrant who plans to leave Australia after finishing their studies. 

Applicants above 18 years should sign the value statement of Australia that ensures that they uphold the Australian culture and their laws.
GTE Requirements:
The Australian Study Visa is highly reliant on GTE (Genuine Temporary Entrant). GTE is a statement of proof showing that the intention is only to visit Australia for educational purposes. The students can obtain an Australian study visa by passing the GTE assessment. Here are the requirements. 
Certificate of education qualification.

Education without discontinuation.

Present Employment details.

Proof of financial connections.

Immigration history.

Marks of TOEFL/IELTS/PTE.
English Language Test Requirements:
The English Language Test should be taken by non-native English speakers while applying for an Australian Student Visa. Below are the necessary requirements for English Language Exams.
| | |
| --- | --- |
| English Language Test | Minimum Score |
| IELTS | 5.5 |
| TOEFL | 46 |
| PTE | 42 |
| Cambridge English Test | 162 |
| Occupational English Test | 'B' for each test component |
Also read: Top 10 highest paying jobs in Australia
Steps to Apply for an Australian Study Visa:
Before applying:
If you are in India or elsewhere outside of Australia, apply for your student visa at least eight weeks before the start of your course.

Complete the health examinations before you apply.

Get assistance with your application for immigration from a licensed Australian immigration agent, a lawyer, or an exempt person. If you need guidance to get a visa, you can contact Greentree Immigration, an accredited migration service. And it is acceptable to designate someone to obtain visa-related documents on behalf of the applicant.

The student and their family members should possess a valid passport to apply for a student visa. 
Required Documents: 
The candidate must provide identification proof. 

Submit the passport with the applicant's photo, personal details, and expiry date. 

Give a Confirmation of Enrollment (CoE) for each course you intend to take if you apply from India or outside of Australia.

Provide proof of the applicant's financial ability and access to funds.

Submit evidence that you have adequate money for travel costs, living expenses, and schooling fees in Australia. 

Submit the health insurance certificate through Overseas Student Health Cover (OSHC). 

Include the genuine temporary entrant (GTE) certificate.

Provide the English language test scorecard with the eligible score. 

Submit the partner's document if applicable. 

Share the school enrolment record with fee paid details.
Please note that only English-language submissions are accepted. It is necessary to translate all non-English documents into English.
Visa Application: 
You can apply for a visa online. Always submit a genuine document. Avoid providing fraudulent and deceitful documents for better processing results. Ensure to submit everything on time, as late applications won't be processed.  
Also read: PTE for Australia Immigration Program 
Applying Cost:
The subclass determines the cost of the visa. To apply for a Student Visa, the primary applicant should pay around AUD650 unless they are excluded. If a student is 18 years of age or older, there are additional applicant fees of AUD460. If the applicant is under the age of 18, there are additional application fees of AUD150.
Each family member who applies for a visa will also incur a fee. Students who couldn't complete their coursework within the application period for their student visa should submit an additional student visa application. For health tests, police clearance records, and biometrics, you are required to pay additional fees.
How Much Funds Are Required For Australia Student Visa?
As per the Government of Australia, the funds required for Australia study visa are a minimum of AUD 21,041 for a year. There are various ways you can demonstrate your Australia student visa fund requirements like:
Unacceptable Funds
Acceptable Funds

KVP, NSC, Capital Account in business

Fixed Deposits

Shares, debentures, bonds,

LIC surrender value

Balance in Savings Account

PPFs, EPF, GPF, PF, CPF

Education loan

Co-op bank balance and FDs

Personal loan (but disbursed fully)
Visa Processing Time:
Processing time may vary depending on the document you submitted. The verification process will take a long time to complete if the documents are unclear, incomplete, or incorrect. Additionally, the fee amount needs to be paid accurately. Nonpayment will cause a delay in the process. Below are the visa processing times based on the sectors. 
Foreign Affairs or the Defence Sector will take between 3 and 39 days to process.

Postgraduate Research Sector applications will be processed within 22 days to 9 months.

The non-award sector will take between 8 and 79 days to process.

The processing time for the School Sector will range from 22 days to 4 months. 

Independent ELICOS Sector will be processed from 32 days to 5 months.

Vocational Education and Training Sector will be processed from 42 days to 9 months.

Higher Education Sector will be processed from 14 days to 5 months.
Upcoming Intakes for Indian Students in Australia 2023
While India only has one primary intake in universities, Australian colleges and educational institutions provide two key intakes for the applicants. Some of the Australian universities even provide three intakes. 
The two prominent Australian University intakes are
February intake (primary)

July intake (secondary)
Primary intake, which begins in February, offers the majority of the courses, whereas July (Secondary) intake offers much fewer with a limited number of courses. Most of the pupils favor the primary (February 2023) intake. Apply to an Australian university and be prepared for the upcoming intake.
Post-Study Work Stream:
The temporary graduate visa(subclass 485) is available to students who studied and graduated in Australia on an Australian student visa. Graduated students can temporarily work, study, and reside in Australia with this visa. The family members can also stay with the visa holder. While the visa is active, the visa holder can leave and return to Australia as often as desired.
Conclusion:
Trouble applying for the visa online? Contact our support team for assistance. We at Greentree Immigration will get in touch with you and support you all the way through the visa process. Book a free appointment right away.