National Occupation Code (NOC Code)
The National Occupational Classification (NOC) is Canada's national system of organizing and describing occupations. It can help you locate information about occupations found throughout Canada's job market. Most of Canada's immigration processing programs use the NOC system to check job offers, employment requirements, and work experience. A list of occupations is categorized in the NOC system, it is provided by a four-digit code the code is called NOC Code.
NOC four-digit code represents different traits such as designation, university education, specialized services ( industry, education, and skills required). These codes are used for recruitment strategies, in conducting research and analysis.
Example:
Software professionals who work in India want to check their NOC code he can check like the following example:
Designation in India:  Software analysis engineer
Occupation in-demand code: NOC 2173
Occupation in-demand name: Software Engineers and Designers
"2" represents skill type for the occupation
"1" represents the level of code usually university education 
"73" represents specialized service in occupations
Also Read :How to find NOC Code for Canada?
NOC skill type or levels
Each NOC code represents in average 60 job titles, and each NOC is organized by skill level (A, B, C, or D) or skill type (0)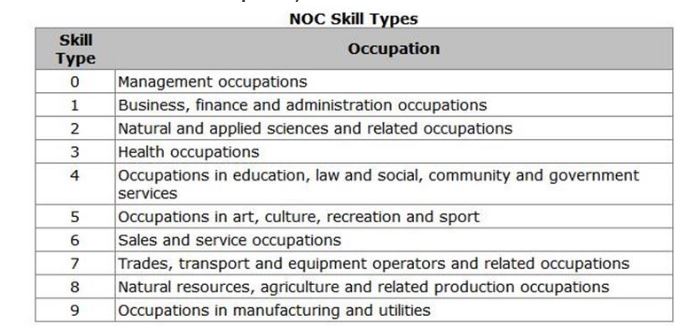 Source: NOC Tutorial
Skill Type 0: 
Occupations related to management:
Factory managers, 

Resort managers(or) 

Office managers.

Human resources managers
Skill Level A: 
Professional occupations that usually need a university degree, such as
Chemists,

Pharmacists.

Financial and investment analysts

Human resources professionals

Other financial officers
Source: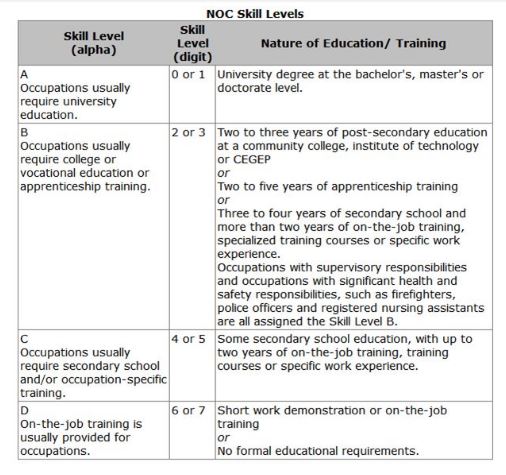 NOC Tutorial
Skill Level B: 
Technical occupations that usually require a college diploma or apprentice training, such as
Administrative assistants,

Health information management occupations

Firefighters, 

Photographers.
Skill Level C:
Intermediate occupations that usually need a high school diploma, such as
Receptionists

Truck drivers,

Travel guides

Dispatchers 
Skill Level D: 
Labor occupations that usually only require training, such as
Dry Cashiers,

Cleaners,

Service station attendants,

Kitchen helpers, &

Light duty cleaners
Based on NOC Code and skill type eligibility program differs
If your NOC code skill type/level is 0, A, or B,
You are eligible for the three federal programs of Express Entry. You can also be eligible for the Atlantic High-Skilled Program of the Atlantic Immigration Pilot program.
If your NOC code skill level is C, 
You can be eligible for the Atlantic Intermediate-Skilled Program of the Atlantic Immigration Pilot Program.
If your NOC code skill level is C or D, 
You can be eligible for some streams of the Provincial Nominee Programs,
Also, read: National Occupation updated list in 2022
If you are worried about choosing the right NOC code for your experience, we recommend talking to an immigration expert. GreenTree Immigration experts will guide you to get all your Canada Immigration Queries to Work, Study, Invest, Visit, or Immigrate Contact our experts for a hassle-free process